Pakistani journalist Cyril Almeida 'barred from leaving country'
11 October 2016

From the section

Asia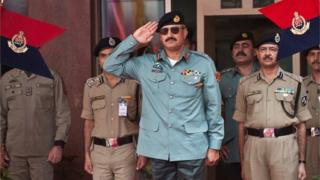 A top Pakistani journalist says he has been barred from leaving the country, after he reported a row between the military and government officials.
Cyril Almeida said on Twitter he had been told his name was on the "exit control list", a border control system.
The row erupted over an article saying the government bluntly warned military chiefs Pakistan faced isolation unless it acted against homegrown militancy.
The government rejected the report, calling it a "a fabricated news story".
Relations between Pakistan's civilian government and the military have often been tumultuous with three coups since independence. Nawaz Sharif's government took office after Pakistan's first ever civilian transfer of power.
But the timing is sensitive because it comes just weeks after India blamed Pakistan-based militant groups for an attack that killed 18 soldiers in Indian-controlled Kashmir, the deadliest assault on the army there in years. Pakistan has consistently denied any links to the attack.
India has long accused Pakistan's ISI spy agency of secretly supporting jihadi groups such as the Jaish-e-Mohammed and Lashkar-e-Taiba saying they wage attacks against India, particularly over Kashmir – which is claimed by both countries.
Controversial article
The 6 October article by Mr Almeida, published in the English-language Dawn newspaper, quoted unnamed sources who said they were present for a meeting chaired by Pakistan PM Nawaz Sharif and the director general of the ISI spy agency Rizwan Akhtar.
It claimed that the PM, Punjab's chief minister and other members of the government raised concerns about a lack of military action against certain militant groups because of their ties to the spy agency. They allegedly warned military chiefs present that Pakistan risked facing international isolation.
The prime ministers office and the Punjab chief ministers office have strongly denied the report saying there was no conflict of that nature at the meeting.
'Puzzled, saddened'
The Dawn newspaper stood by the story, saying it had repeatedly fact-checked and accused the government of "scapegoating the country's most respected newspaper in a malicious campaign".
Mr Almeida was scheduled to travel to Dubai on Tuesday, but said on Monday evening he received word that he would not be allowed on the plane.
"I am on the list- I have seen it and I have been told not to go to the airport," he said on Twitter.
Later he wrote: "Puzzled, saddened. Had no intention of going anywhere this is my home. Pakistan."